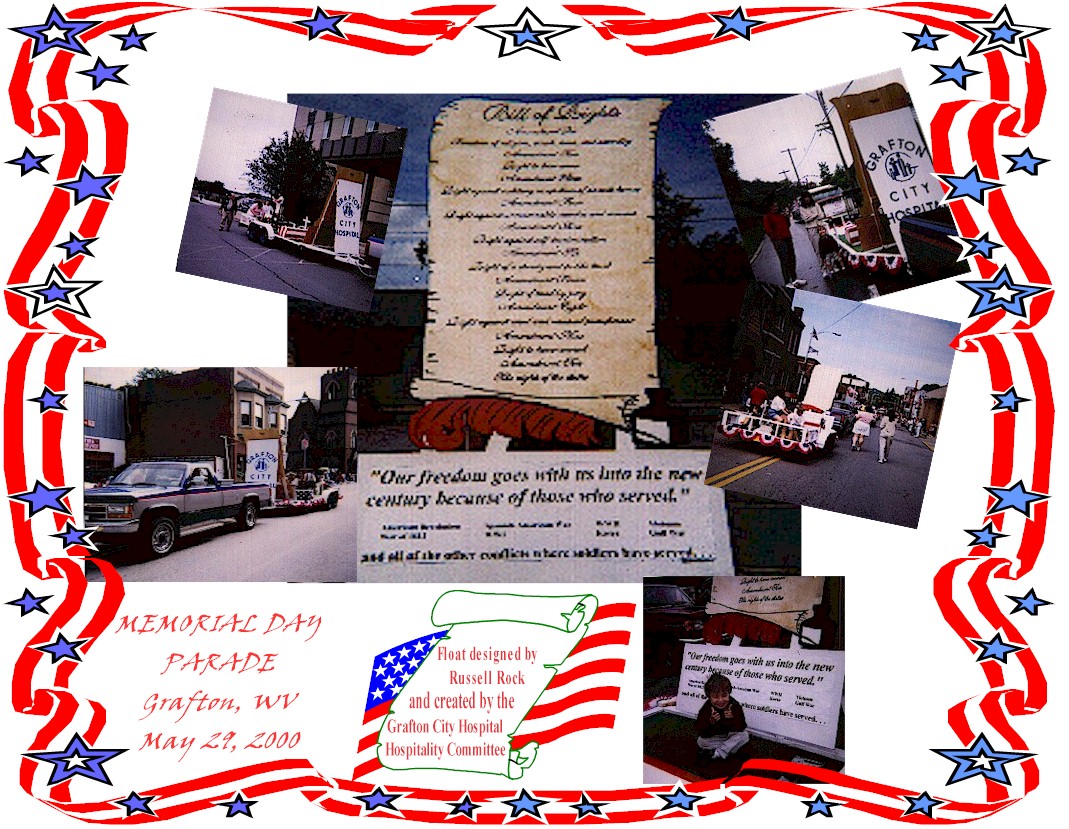 photo credits: (top left: working on the float in front of the hospital); top right: waiting for the rain to stop and the parade to start; middle right: 'to the rear, march!'; bottom right: my son, Josh, gives his approval to the float; bottom left: heading down Main St.; center: the focal point of the float. A 6 1/2 ft. tall, hand-painted, wooden replica of the Bill of Rights.)
Text reads:
"Our freedom goes with us into the new century because of those who served."
American Revolution Spanish-American War WWII Vietnam
War of 1812 WWI Korea Gulf War
and all of the other conflicts where soldiers have served...

Each year, Grafton, WV has a parade to honor U.S. Veterans. This parade is long, tradition-filled and has the full support of the local community. This year was no different. Several thousand people are reported to have attended. Grafton City Hospital, my employer, created a float for the parade as it does every year. A group of employees called the Hospitality Committee, of which I am the chairman, worked after hours to build this float over several days. The parade was a great success. It lasted over 2 hours and was filled with floats, bands, local community groups and, of course, politicians. The day started off cold and misty, and yet the streets were already filled. By the start of the parade, the clouds had parted and the sun shone for the entire length of our route.
The float was laid out as follows. On the end closest to the truck was the Bill of Rights. Directly in front of that, with white crosses on either side and a floral cross placed in front, was a flag-draped casket. In the rear were small children and parents. Therefore, following the theme of the float and the parade, the children are able to live free in the shadow of the Bill of Rights thanks to the sacrifices of the U.S. soldiers.
The Bill of Rights was recently given to a local elementary school to use for many years to come by the children in stage productions and graduations. It has already been put to use.